Social Links Widget
Click here to edit the Social Media Links settings. This text will not be visible on the front end.
By Keeping Current Matters

The year 2020 will certainly be one to remember, with new realities and norms that changed the way we live. This year's real estate market is certainly no exception to that shift, with historic highlights continuing to break records and challenge what many thought possible in the housing market. Here's a look at four key areas that are fundamentally defining the market this year.
Housing Market Recovery
The economy was intentionally put on pause this spring in response to the COVID-19 health crisis. Many aspects of the common real estate transaction were placed on hold at the same time. Thankfully, technology and innovation helped the industry power forward, and business gradually ramped back up as shelter-in-place orders were lifted.
The result? Total transformation of the market from rock-bottom lows to exceptional highs. Today, the housing recovery is being called truly remarkable by many experts and is far exceeding expectations. From pending home sales to purchase applications, buyers are back in business and homes are selling – fast.
According to the Housing Market Recovery Index by realtor.com, the market has surpassed pre-pandemic levels, and has regained the strength we remember from February of this year (See graph below):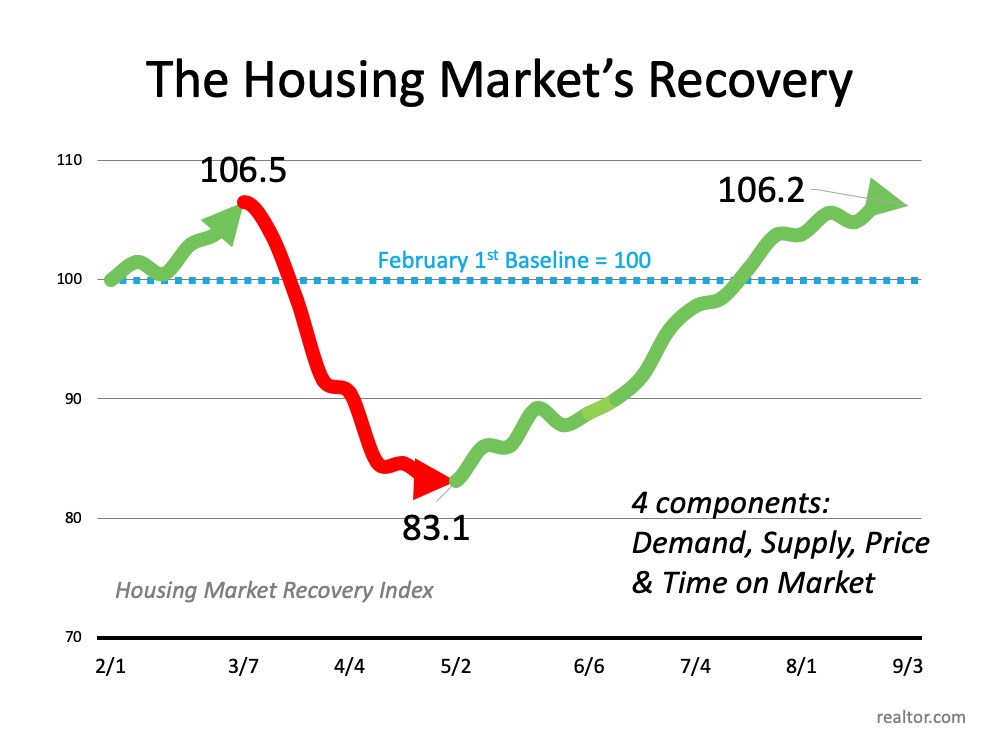 Record-Breaking Mortgage Rates
Historically low mortgage rates are another 2020 game-changer. Today's low rate is one of the big motivating factors bringing buyers back into the market. The average rate reached an all-time low on multiple occasions this year, and it continues to hover in record-low territory.
When rates are this low, buyers have a huge opportunity to get more for their money when purchasing a home, something many are eager to find while continuing to spend more time than expected at home this year, and likely beyond.
Continued Home Price Appreciation
One of the key drivers of home price appreciation this year is historically low inventory. Inventory was low going into the pandemic, and it is still sitting well below the level needed for a normal market. Although sellers are slowly making their way back into the game, buyers are scooping up homes faster than they're coming up for sale.
This is a classic supply and demand scenario, forcing home prices to rise. Selling something when there is a higher demand for what is available naturally bumps up the price. If you're ready to sell your house today, this may be the optimal time to make your move. As Bill Banfield, EVP of Capital Markets at Quicken Loans, notes:
"The pandemic has not stopped the consistent home price growth we have witnessed in recent years." 
Increasing Affordability
Even as home prices continue to rise, affordability is working in favor of today's homebuyers. According to many experts, rates this low are off-setting rising home prices, which increases buyer purchasing power – an opportunity not to be missed, especially if your family's needs have changed. If you now need space for a home office, gym, virtual classroom, and more, it may be time to reconsider your current house.
According to Mortgage News Daily:
"Those shopping for a home can afford 10 percent more home than they could have one year ago while keeping their monthly payment unchanged. This translates into nearly $32,000 more buying power."
Bottom Line
With mortgage rates hitting historic lows, home prices appreciating, affordability rising, and the market recovering like no other, 2020 has been quite a year for real estate – perhaps one we've never seen before and may never see again. Let's connect today if you're ready to take advantage of this year's record-breaking opportunities.
By: Erin Wright, Clark County, WA Realtor
Buyer's are out in full swing in Clark County and Multnomah County. As a result of all the Buyers entering the market place, the inventory is still low and real estate prices are on the rise.
The local real estate markets have seen low inventory over the last 2 years and they continue to remain low. When looking at all homes currently on the market in Clark County, there is 2.5 months of inventory. This indicates a Seller's Market. However, many of those homes are proposed construction and new construction. If those two categories are taken out, then there is only 2 months of inventory. For Multnomah County, there is currently 1.4 months of inventory. If you take out the new and proposed construction again, then there is 1.3 months of inventory. This low inventory with an increased number of Buyers has resulted in the listing prices of homes to continue to rise.
Last year, the average list price of properties in Clark County in May 2014 was $384,000. This year, the average list price of properties in Clark County at the end of April 2015 was $452,000. That is an increase of 18%. In Multnomah County the average list price from May 2014 was $440,000. This year the average list price of properties in Multnomah County at the end of April 2015 was $489,000. That is an increase of 11%.
All data for this article was gathered from Trendgraphix.
Clark County Data Provided by Trendgraphix Below
All Clark County Inventory Over the Last Year
Clark County Resale Inventory Over the Last Year
Clark County Listing Prices Over the Last Year
Multnomah County Data Provided by Trendgraphix Below
All Multnomah County Inventory Over the Last Year
Multnomah County Resale Inventory Over the Last Year
Multnomah County Listing Prices Over the Last Year
By Erin Wright, Real Estate Agent with Windermere Real Estate
Image courtesy of WorldWideStock at FreeDigitalPhotos.net
Sellers often ask me about staging, the benefits of staging, how in depth their staging needs to be, and if there are any small tips or tricks to the staging process. These are all valid questions, and ones Sellers should ask. When I go through my listing presentation, I spend a good deal of time on this very subject, to fully showcase the benefits of staging. I also bring a staging consultant to every one of my listings, so we can all go room by room and talk about the best way to showcase the homes features. Staging helps create the first impression, so it is a vital role in listing a home. When staging, there are a few key rules to follow: keep the style neutral, less is more and focus on light.
Neutral Style: Although some Buyers are able to look past a Seller's style, to create a positive first impression, it is best to make the home a blank canvas. This will allow Buyers to walk through the home and picture their own style and stuff throughout the home. A key piece of advice I give my clients is to go through their home and see what elements are more personal in nature or style. For example, the huge family portrait over your fireplace, not the best way to allow a Buyer to picture themselves in the home. The bright red accent wall in the family room will likely also keep a potential Buyer from picturing themselves in your home. When staging, it is best to depersonalize your home, remove most family pictures, and create a neutral tone and feel in all the rooms throughout the house. It is nice to have a pop of color around the house, so to achieve this consider a fruit bowl filled with colorful fruit in the kitchen, colorful pillows in the family room, and colorful towels in the bathroom.
Less is More: In our day-to-day lives, I think we tend to like to surround ourselves with our belongings. A beautiful chair, decorative plates, and walls full of artwork. However, when staging a home, less really is more. The goal of staging is to make a space feel welcoming and attractive to as many potential Buyers as possible. Space and the size of rooms are two of the most important things Buyers look for in a house. Therefore, placing furniture and decor in a way that maximizes the space in a room is an essential part of staging. One of the key tricks to doing this is to keep the amount of furniture and decor minimal. Let the space showcase itself. So in a normal sized family room, a Seller may have a sectional, coffee table, two chairs and two side tables. Likely, if the Seller removed the two chairs and two side tables, the space would feel larger and more open. Consider what furniture and decor is essential in each room and place it intentionally. Then I recommend my clients rent a storage unit, use a shed, or use a garage and store the remainder of the furniture. This will allow the home to breath and feel more spacious. Also, this allows Buyers to more comfortably move throughout the home. A great rule of thumb is to keep all pathways and open spaces wide enough for 2-3 people to comfortably walk through them at the same time. Often times my Sellers end up liking the open feel better, and decorate their new home in the same manner as they staged their previous home.
Light is Key: Buyers often request homes with great light. This is because the natural lighting of a home can often create positive energy within a home. This is especially true in the Northwest where it rains for a large portion of the year. Therefore, it is important for Sellers to showcase the areas in the home with natural light. The best way to do this is to keep anything from blocking the light. If there are blinds, raise them. If there are curtains, open them. Allow the light to shine in through the house wherever possible. Another great way to create the feeling of a light and bright home is to keep the walls painted a lighter color and have the ceiling painted white. This will reflect the natural light throughout the home, making it feel lighter and brighter. Also, white ceilings give the illusion of taller ceilings, which is a great-added benefit. Another great idea is to allow there to be ample room in front of windows and exterior doors. Buyers love to go up to windows and look out of them to see the light and the view.
For information on these and other staging tips, feel free to contact me at ErinWright@Windermere.com or (360) 356-1445.
Looking At New Construction? Here are a Few Things to Consider
By: Erin E. Wright, Real Estate Agent with Windermere Real Estate
More and more buyers are turning to New Construction for their home buying needs. This is a result of the changing aesthetic styles, low inventory, and increase in New Construction communities around Clark and Multnomah Counties. For a buyer who is frustrated at what they are seeing in the resale market, New Construction can be a great solution. There are a few things buyers should consider when looking at buying new construction.
1. Choosing a Builder – There are so many builders to choose from in the Clark County and Multnomah County Real Estate Markets, not to mention other markets around the country. First, it is important for buyers to know their budget. Once a price range is nailed down, there will be a group of builders in that price range for the buyer to choose from. Obviously, the aesthetic appeal of the builder is important. However, there are other important factors to consider when choosing a builder. How well does the builder work with the buyer? If the buyer wants to make small to large changes, how does the builder react? What type of warranty does the builder offer? Who will make the repairs under the warranty if issues do come up? How easy is the builder to work with? Can a meeting be arranged with a builder? Some of these questions are easily answered when a buyer goes to visit the builder or builder's representative; this is often done at a model home. However, all builders would have you believe that they are the best, so it is important for buyers to do their research. I often send my clients information on builders from the BBB, Consumer Reports reviews, and other research that can be found online.
2. Working with a Realtor – One thing many clients do not realize, is that most builders have in house agents, or listing agents they hire to do their sales for them. This is the agent buyers normally meet at the model home. This agent is an agent of the builder. Their job is to sell homes for the builder. It is a good idea for a buyer to have their own Real Estate Agent to represent them in the transaction. Most builders will offer the Buyer's Agent a commission, so the buyer will not have to pay their commission. If a buyer has already decided to work with and chosen their Buyer's Agent, it is important for the buyer to mention that right away if they go in to visit a builder or model home without their agent. If a buyer does not mention it and ends up deciding to buy a new construction home, some builders will work with and still pay the Buyer's Agent. However, some builders will make it difficult for the Buyer's Agent to represent their client. This process is usually easier if there is a Buyer's Agency Agreement in place.
3. Negotiating a Deal – Builders do negotiate, however, it is not always apparent or easy to know how to negotiate with a builder. Most builders will get the price they are asking for a home, especially one that is not yet built. This is because the price a person pays for a home becomes public record. Therefore, if the builder sells one buyer a home for $5,000 less than the asking price, all other buyers will be able to find that information and use it as a negotiating strategy when buying their homes. Instead, builders tend to be much more willing to negotiate on finishes, upgrades, changes, and even closing costs for the buyers of their homes. Since these items do not become public record, a builder is much more willing to negotiate on them. To be able to effectively negotiate for upgraded finishes, changes, and closing costs, it is important to have a list of what is standard for the builder in the neighborhood a buyer is looking at. Once the buyer knows what is standard, then the buyer needs to decide what is on their dream list above and beyond what the builder already offers. It is usually a good idea to come up with several items with a total value of 1-3% of the purchase price. Buyers should include those items on their offer and expect to negotiate from there. More likely than not, the builder will not give the buyer everything they have asked for, but will agree to some of the items as part of the deal, thereby increasing the value of the buyer's home.
4. Picking & Paying for Finishes – Builders love to create beautiful model homes that showcase their ability to build a beautiful home. However, these model homes are usually filled with options and upgraded finishes that do not come standard with the home. When a buyer is out looking at a model home, it is always a good idea to ask the builder or builder's representative, what in the home is standard, what is an upgrade, and if the builder were to build this home on one of their available lots, what would they sell it for? It is also a good idea to ask if there is a price sheet available for all upgrades and options, so the buyer can see up front what each one will cost them. Now these are the items that can be negotiated on. However, it is important for a buyer to know what the finishes and options they like will cost them.
5. Inspection – Many buyers do not think it is necessary to have an inspection on New Construction. It is a new home, so everything must be in perfect condition and working order, right? It is rare for a home to undergo a professional inspection and not raise issues, this includes new construction. It is important to have an inspection once the home is completed to bring those issues to light. If the inspector does discover issues with the home, ask the builder to fix those items prior to closing (ideal) or within 30 days of closing (sometimes necessary based on timelines). It is important to put these expectations up front in the offer to buy the house, so the builder is contractually obligated to allow a buyer to have a professional inspection and fix the issues that arise at the inspection within a specific timeframe.
For additional information on buying new construction, or other real estate questions, feel free to contact me.
ErinWright@Windermere.com or (360) 356-1445
Your Local Realtor,
Erin E. Wright
Proudly Serving My Clients and My Community!