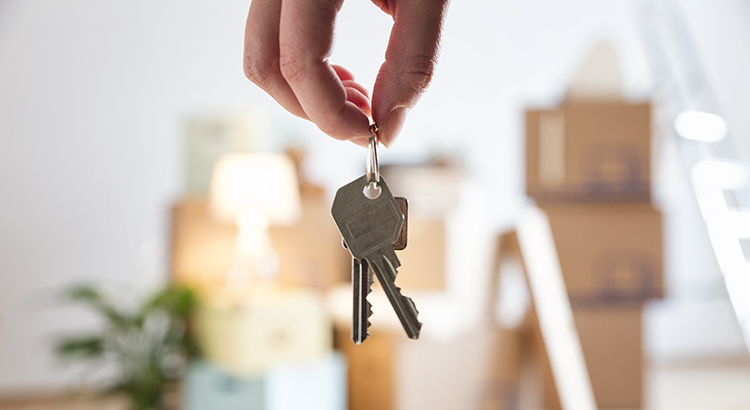 By: Keeping Current Matters
As the health crisis started making its way throughout our country earlier this spring, sellers have been cautious about putting their homes on the market. This hesitation stemmed primarily from fear of the spread of the coronavirus, and understandably so. This abundant caution has greatly impacted the number of homes for sale and slowed the pace of a typically busy spring real estate season. Mark Fleming, Chief Economist at First American notes:
"As more homeowners are reluctant to list their homes for sale amid the pandemic, the supply of homes available to potential home buyers continues to dwindle."
With many states beginning a phased approach to reopening, virtual best practices and health and safety guidelines for the industry are in place to increase the comfort level of buyers and sellers. What we see today, though, is that sellers are still making a very calculated return to the market. In their latest Weekly Housing Trends Report, realtor.com indicates:
"New listings: On the slow path to recovery. Nationwide the size of declines held mostly steady this week, dropping 23 percent over last year, a slight increase over last week but still an improvement over the 30 percent declines in the first half of May."
Although we're starting to inch our way toward more homes for sale throughout the country, the number of homes on the market is still well below the demand from buyers. In the same report, Javier Vivas, Director of Economic Research for realtor.com shares:
"Sellers have yet to come back in full force, limiting the availability of homes for sale. Total active listings are declining from a year ago at a faster rate than observed in previous weeks, and this trend could worsen as buyers regain confidence and come back to the market before sellers."
Lawrence Yun, Chief Economist at the National Association of Realtors (NAR) seems to agree:
"In the coming months, buying activity will rise as states reopen and more consumers feel comfortable about homebuying in the midst of the social distancing measures."
What we can see today is that homebuyers are more confident than the sellers, and they're ready to make up for lost time from the traditional spring market. Summer is gearing up to be the 2020 buying season, so including your house in the mix may be your best opportunity to sell yet. Interest in your house may be higher than you think with so few sellers on the market today. As Vivas says:
"More properties will have to enter the market in June to bring the number of options for buyers back to normal levels for this time of the year, nationwide and in all large markets."
Bottom Line
If you're ready to sell your house this summer, let's connect today. Buyers are interested and they may be looking for a house just like yours.
By Erin Wright & Christina Waterhouse
Questions to Ask and Information to Gather Before You Refinance
Low interest rates are attracting more and more people to the market, especially those who are looking to refinance their mortgages. Clients have been reaching out to us to ask if they should be refinancing their homes. Our general response is, "it depends". There are a few questions and pieces of key information you should gather before deciding whether to refinance.
1. What is the difference between your interest rate and current interest rate?
A good rule of thumb is for the current rate to be at least .5 – .75% less than your interest rate. This rule can change greatly depending on the size of the loan though. The more money that is being borrowed, the larger the difference is going to be in both your monthly payments and your total interest paid. You can find the daily interest rate here.
2. How close are you to paying off your mortgage
At the beginning of a loan, most of the monthly payment is going to interest. Only a small portion of the payment goes towards paying off the principal balance of the loan. As payments continue, the amount that goes towards interest goes down and the amount that goes towards the principal balance goes up. It is worth looking at an amortization schedule to see if refinancing will save you money over the life of the loan. You can find an amortization calculator here.
3. Has your credit or employment changed?
Employment history, debt to income ratios, and credit scores all impact the rate you will receive when applying for a loan. Speak to your lender regarding any changes in these areas to make sure you would qualify for a refinance and see what rate you would likely qualify for. Then you can determine if it is worth refinancing.
4. What is the property being used for?
Properties that are used as primary residences qualify for lower interest rates than those used as investment properties (usually .5 – 1% lower). If you purchased the property as a primary residence and subsequently turned it into a rental, you might not see much of a change in your interest rate or possibly your interest rate as an investment property could be higher. Speak with your lender to see what the current interest rate would be for the specific property.
5. Should you refinance into a 15 year loan or 30 year loan?
If you do decide that it is worth refinancing your loan, consider looking at both a 15 year and 30 year loan. Right now the interest rate for a 15 year loan is in the mid 2% range, while the interest rate for a 30 year loan is in the high 2% range. A 15 year loan will save you a lot of money in interest over the life of the loan. This is a great way to build strong equity in your property and pay it off in half of the time.
As always, we welcome any questions you may have and are happy to offer advice.
Mortgage insight and references provided by: Mathew Mattila, Cascade Northern Mortgage
Procedures for Real Estate, How Covid-19 has Changed the Experience of Selling Real Estate
By Erin Wright and Christina Waterhouse
What challenges do sellers face when putting their house on the market? How can sellers help create a safer environment for showings? This week we continue to focus on the challenges that are currently being faced by buyers and sellers transacting real estate and how our local market has responded to those challenges to make the process safer and easier.
The Seller Process During Covid-19
Selling a house is always a stressful time, add a worldwide pandemic and it can seem overwhelming. However, speaking with an agent can help increase preparedness and reduce stress.
Before Going on the Market
The first step is always getting the house ready for the market. Although it is fun to watch a house makeover in real time, it is best to avoid being home during this part of the process. Allow the landscapers, stagers, and photographers to focus on making the house look its best instead of maintaining social distance standards. Also, if the agent does not offer it, have the house thoroughly cleaned and disinfected by a professional right before going on the market.
Virtual and Paperless Marketing
The house is ready for the market. Work with the agent to give as many details about the house as possible to put into the MLS. This is a great time to have room measurements and amenities added. Virtual tours and floor plans allow perspective buyers to get a good idea of the house before a showing. Have a sturdy, permanent flyer attached to the sign post in lieu of paper flyers. I love a good flyer and being able to take one, but now is not the time to have lots of hands on pieces of paper being passed out to the public. If brochures are used inside of the house for showings, only put out one at a time prior to the showing.
Being Prepared for a Showing
Limit showings to pre-approved buyers only. This will minimize the number of people in the home. The buyers who do see the home will be the serious ones. Try to not be home for the first five days on the market. This allows buyers easier access and makes it easier to clean when you return. Have all lights on and doors open for a showing. This minimizes how many surfaces are touched inside of the home. Be prepared for showings to take longer since not everyone in a group can see the house at the same time. The agent should be providing ample shoe covers to be used inside. Place them by the front door. The best practice right now is to have buyers use the shoe covers and take them after the showing. Single use shoe covers minimize touching. Consider placing hand sanitizer with a pump at the front door for people to disinfect upon entering and leaving the home.
Sanitize When Returning Home
Thoroughly sanitize common surfaces when returning home. Places to consider are cabinets, countertops, door handles, handrails, and light switches.
When first listing a home, this can be overwhelming. Consider making a checklist so the house is prepared for every showing and sanitized after. For more information on how to stay safe and what to expect as a seller in this market, please feel free to comment on this blog post or reach out to us directly.
As always, we welcome any questions you may have and are happy to offer advice.
Understanding the Current Real Estate Market in Clark County
Our team has received a lot of inquiries regarding the real estate market during Covid-19. There are valid concerns and questions surrounding how this has impacted the market so far and what will happen in the future. We decided to share with you all the various statistics that we review to gauge the health of the real estate market and help you understand what they mean. This is part 1 of a series of real estate economic blog posts we will be publishing weekly.
What our local Market is currently doing and why

Clark County Washington is experiencing a Seller's Market. We are seeing new listings that are priced appropriately selling quickly with multiple offers. This may seem counter intuitive, given that unemployment is up and so many businesses are closed. These things are true. Real estate is a perfect example of supply and demand. The pandemic has decreased demand, and we are seeing fewer buyers in the market than we would typically see this time of year. Some buyers are waiting to see what happens with their jobs, the economy, or just do not feel safe viewing properties. However, the pandemic has decreased the supply further. According to RMLS the week prior to the state-wide lock down, there were 272 new listings on the market. This past week there were only 173 new listings on the market, a decrease of 36%. To further tighten the inventory, during the past week, 183 listings went pending, which is 10 more listings than came on the market.
This data provides a good picture of what is going on in terms of numbers, but what does it mean to the buyers and sellers in the market today? We received multiple offers on our last 3 new listings during this pandemic. We have also had multiple buyers in bidding wars over the last couple weeks. For Sellers, this is showing that there is strong interest in the market right now due to the incredibly low inventory. We strongly advise Sellers to fully prep, clean, landscape and stage houses. This, along with pricing at market value will enable sellers to capitalize on the high demand and hope for multiple offers. For Buyers, this means that if you like a house, you need to make a quick decision to write an offer and really put your best foot forward. This can be difficult if you are looking for a good deal. Our best recommendation to such buyers is to look for properties that have been on the market for 30, 60, 90+ days and try to negotiate those sellers down on price. For all buyers right now, be prepared to lose out on a few houses because you have a lot of competition. Be patient, the right house will come around.
As always, we welcome any questions you may have and are happy to offer advice.